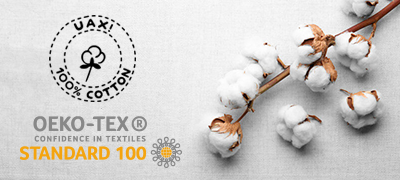 Material: 100% sustainable cotton
Parameters: 180g/m2
Design: manual screen printing, water-based colors with GOTS certificate, option to purchase without printing
UAX! configurator = mix your own color combination! Women's cotton shirts WOMEN RAGLÁN COLORS PLUS classical style with long raglan sleeves. Mix & Match - choose from a number of original prints and bright colors combine. The back of the T-shirt is the same color as the hem at the neck and the front! Configurator colors! Choose your own combination of colors on the sleeves, hem and body shirts.
Products of cotton sewn and printed in the Czech Republic under the registered trademark "UAX fish without meat"
  
Each piece is an original! " JUST IN TIME" original manufacture products according to your order !
  
Neck at a maximum range of sizes XS- 4XL in a wide variety of colors and patterns that are regularly updated on Facebook.
  
Knitted fabrics are produced in a country only high quality combed Egyptian cotton long fiber in the current color . Thus, we are able to provide min . coagulation (Sanforization) no lumps , holds color fastness and does not rotate at the seams.
  
Knitted colorful high quality reactive colors resistant to fading - Manufacturer guarantees about 50 washing cycles without a significant change in color (do not , but dry in direct sunlight) + the protipotní treatment - armpit arise white maps .
  
Materials are certified according to EU EKOTEX 100 - Best of materials that do not contain foreign materials , the colors do not contain heavy metals and are healthy . Applicable for children under 3 years.
  
Weight: The weight of the material T-shirt is about 180 g/m2.
  
UAX ! Image - Printing is applied screen printing , water-based paint, which fixes temperatures ( 130-150 ° C ) in order to quality link colors with textiles.
  
Use expensive and high quality paints that meet stringent European standards with a guarantee for children under 3 years.
  
Color is applied for better coverage in several ( 2-3) layers , and hand pressed into the textile fibers in order to print on the shirt to withstand rougher treatment.
  
Ordering through e-shop, we recommend re-measure according to size table.
  
Imprints is applied in layers 2-3 and firmly hand pressing by screen printing to textile fibers so that the shirt withstand rougher treatment.
  
Recommend washing at temperatures up to 40 ° C , Do not bleach , chemically clean and we recommend Do not dry in direct sunlight.
  
Imprints will last longer if you wash and iron on reverse .
  
Offer the opportunity to purchase t-shirts without printing in this case, choose č.999 - without printing.
  
Buying UAX ! product get quality original product from a purely Czech company. We sew , print and pay taxes in the Czech Republic! !